Annie Oakley is a women I became interested in recently. Looking over pictures of her and reading about her life, she instantly reminded me of a friend. Something about both her spirit and her physical presence.
I wanted to start making posts about individuals and images
that I've
collected, mostly in my mind but some on my
hard drive
, so this is the first.
Though she is known as Annie Oakley, the famous sharpshooter and exhibition shooter was born Phoebe Ann Moses in 1860, in a log cabin on the rural western border of Ohio.
After the death of her father at age six, followed shortly by her mother re-marring and then becoming
widowed
for a second time , Annie's family (now consisting of nine children and her mother) soon found itself in a dire situation. In 1870 Annie and her sister were admitted to the Drake County Infirmary, also called the "poor farm", when the family could no longer financially support them.
Annie was "let out" to a local family by the poor farm, where she suffered mental and physical abuse before running away and returning home two years later. At that time her mother had married for a third time. The family remained impoverished, and Annie began hunting and trapping (which she had done since a young age), selling the game she caught in town to hotels and
restaurants
. In this way she was able to support her mother and siblings, and at the age of 15 she had raised enough to pay off the mortgage owing on the family farm.
Of this event she says "Oh, how my heart leaped with joy as I handed the money to mother and told her that I had saved enough to pay it off!"
Annie was such an accomplished hunter that at age 15 she entered a sharpshooting competition against Francis Butler, a travelling marksman. Butler had bet $50 (around $2,000 today) that he could beat any competitor. Surely he wasn't expecting a 15 year old girl as a competitor, and Annie quickly beat him, hitting 25 out of 25 shots in a row (Butler missed on his 25
th
shot).
This was the
beginning
of Annie Oakley. Annie became
renouned
for her sharpshooting abilities, and drew a crowd wherever she performed. One of her most famous tricks was to split a playing card, edge-on,
repeatedly
, and then put subsequent holes in it, all before it fell to the ground, shooting from a distance of 90 feet.
Later, Annie married Francis Butler, and
together
they toured with Buffalo Bill's Wild West show. During this period the
Lakota
Holy Man and Chief Sitting Bull also toured with the show, and they struck up a friendship. It is reported that Sitting Bull
adopted
Annie, in part to symbolically replace a daughter who had died. Sitting Bull gave Annie the nickname "Little Sure Shot", which she used throughout her career and became part of the identity she created for herself as a women of the wild west.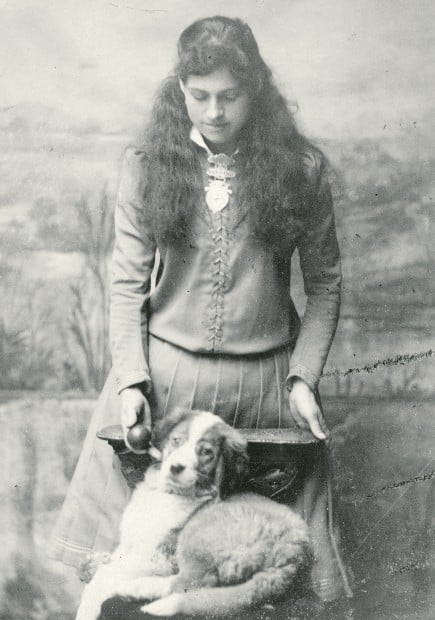 A rare picture of Annie without her gun.
In the
National Cowgirl Hall of Fame
in Texas, Annie is quoted as saying:
"Aim at the high mark and you will hit it. No, not the first time, not the second time and maybe not the third. But keep on aiming and keep on shooting for only practice will make you perfect. Finally you'll hit the bull's-eye of success."
Annie performed throughout her life, along with advocating for
women's
causes and philanthropy work. She
continued
to set sharpshooting records up until her death in 1926, from natural causes.